Tour 5 days: City Tour Cusco, Sacred Valley and Short Inca Trail
Excursiones of several days
---
About this tour
Start:

From your arrival in Cusco at the airport.

Lodging:

3 nights Cusco and 1 night in Aguas Calientes

Group:

16 people maximum.

Type of transport:

Minivan Sprinter, fully equipped and comfortable.

Tickets included:

No more queues, tickets included.

Tour guide:

In English and Spanish (shared service)

Feeding.

Box lunch on day 2 / Buffet lunch on day 4.

Payment methods:

Visa, American Express, Diners Club, PayPal, MasterCard.
---
Description
Tour the Secret of the Incas, is a package designed not to miss any archaeological site near Machu Picchu. This will be possible thanks to the fact that the wonder of the world can be reached on foot and by the always beautiful Inti Punku. The first days in Cusco we will be able to acclimatize properly since they will be days of close and undemanding tours. In the first days we will visit the remains of one of the main constructions of Tawantinsuyo, Sacsayhuamán and the Sacred Valley, for all these destinations we will have ample and comfortable transportation, ideal for tourist trips. We can also have lunch and have the help of a guide. We will only have to enjoy the beautiful landscapes that we will see from our transport or from our ascent through the mountains.
---
Video
---
This is the experience
At Machupicchu Terra, we always prioritize the safety of our travelers. In this sense, we see ourselves in the need to provide you with a reception and transportation service from the airport to your hotel. In this way, we will start our services, which you have previously reserved. After you have arrived at your hotel, we will go through your hotel with other transportation and the relevant guide to carry out the City tour and visit Sacsayhuamán, Qenqo, Pucapucara, Tambomachay, the beautiful Cathedral of Cusco and one of the architectural coalitions of two worlds. the Coricancha. After that you can rest in your hotel and have dinner in the place you want. The second day we will also go through your hotel with the transport for the day. Our destination will be the Sacred Valley of the Incas, we will pass through Taray, Pisac, Ollantaytambo and Chinchero, this day we will enjoy an exquisite buffet lunch. On the third day we will have a direct trip to Ollantaytambo, but this time we will go in the direction of the train station. Once on the train we will arrive at kilometer 104, from where we will begin our walk until we reach Machu Picchu. The fourth day will be dedicated exclusively to visiting the entire Inca citadel and we will discover the many secrets that still resist a scientific explanation. On the fifth day in Cusco we will go through your hotel to take you to the airport, ending our services.
---
Prices
| City Tour Cusco, Sacred Valley and Short Inca Trail 5 days | Single room | Double room |
| --- | --- | --- |
| Hotel 2 stars | 770 USD | 695 USD |
| Hotel 3 stars | 975 USD | 770 USD |
| Hotel 4 stars | 1,245 USD | 925 USD |
---
Itinerary
Day 1: Reception at the airport and City tour
Confirmed your reservation, we will be waiting for you at the airport.
One of our agents will identify themselves and will be in charge of taking you to your hotel.
In the afternoon, an ideal transport for tourism, will pass through the door of your hotel and we will start the City Tour Cusco.
It is recommended that you can have lunch before. We will not make stops at restaurants along the way.
The places that we will visit may vary in order, but we will visit the Temple of Coricancha, Sacsayhuamán, Tambomachay, Pucapucara, Qenqo and the Cathedral of Cusco.
After the tour, we will finish the tour in a central place ideal for dinner or to reach our hotels on foot.
We will be able to spend the night in our hotels.
Day 2: Sacred Valley of the Incas
Transportation will pass through our hotels from 7:30 to 8:00 in the morning.
We will leave in the direction of the Sacred Valley with our guide.
This day we will visit the archaeological sites of Pisac, Ollantaytambo and Chinchero. The first destination will be the district of Taray, from where we will have a spectacular view of our entire journey.
We will arrive in Urubamba just in time for lunch. Here we will enter the Tunupa restaurant to enjoy our buffet lunch.
The tour lasts all day, it is expected to arrive in Cusco at 18:30 or 19:00.
Day 3: Short Inca Trail (first day)
This day we will start earlier than the previous one, but we will also leave in the direction of the Sacred Valley.
Our destination will be the Ollantaytambo train station.
From the station, we will take the Expedition train to kilometer 104.
We will register our names and start the tour.
Before we will meet our team of porters and we will introduce ourselves together with the companions with whom we will carry out the walk.
We will ascend the mountain to visit two archeological sites with only access: Chachabamba and Wiñayhuayna.
After these two tours and explanation by our guide, we will enjoy our box lunch as lunch.
We will continue our walk through the mountains and little by little we will approach Machu Picchu.
The first detail that we will see before arriving will be the Inti Punku.
We will see all of Machu Picchu from the mountains and it will be a spectacle like no other. Then we will have to descend to Aguas Calientes on foot.
In Aguas Calientes our hotel and a comforting dinner await us.
It is possible to get off the buses, but you will have to indicate this at the time of your reservation.
Day 4: Ascent to Machu Picchu and return to Cusco
We will leave early, it will be time to get on the bus hoping to be the first to enter Machu Picchu.
We will do the tour with our guide, who will give us all the information so as not to miss any detail of Machu Picchu.
We will know all the destinations that are located in Circuit 2 (they are the vast majority).
Circuit 2 begins its journey through the Guardian's House, we cross the areas of the houses, platforms and colcas. During a large part of our tour we will see the famous water circuits and the inevitable temples dedicated to the Tawantinsuyo deities. We will pass by the Intihuatana and the Sacred Rock before leaving.
Our tour will be approximately 3 hours. Then we will have to descend to Aguas Calientes in the ecological buses.
In Aguas Calientes we will find different options for lunch and also for a walk.
It is recommended to wait 30 minutes before the train departure time.
First we will arrive at Ollantaytambo and from there, we will depart by minivan to Cusco.
It is expected to arrive in Cusco before 9:00 p.m. We will end the day at our hotel door.
Day 5: Farewell
We will have to coordinate the pick-up time from your hotel to take you to the airport.
Once we transport you to the airport, our service is over. If you have any questions, you can write to our travel advisors.
---
What includes?
Reception at the airport and transportation to your hotel.
Transportation to all destinations.
You will be able to reserve a hotel room in advance. The service can vary from 2 or 4 stars.
Food: lunch in Tunupa and breakfast, lunch and dinner during the Inca Trail.
Reserved tickets to all described destinations.
Ticket for Machu Picchu with Circuit 2.
Professional guide for all activities.
Spacious transportation, comfortable and full equipment.
First aid kit.
Water during the walk.
Oxygen balloon.
Transport for individual use.
Sunscreen.
Digital or printed photographs.
Tips.
---
What to bring?
You cannot forget your identity document, it will be used to enter your reservations.
You have to use sunscreen in all activities.
Near Machu Picchu, you must use mosquito repellent.
It will also be important to wear a hat, sunglasses and hats.
Wear comfortable shoes and ideal for hiking.
Wear comfortable clothes and bring a change of clothes for the Inca Trail trek (two days).
Bring a raincoat.
---
Where does the tour start and end?
We will always go through your hotel to start the day's activities.
On your arrival in Cusco we will also wait for you and you will have transportation to your hotel.
You will have the contact of the travel advisor and the guide to answer any questions.
---
Will I feel altitude sickness?
On your first day in Cusco, you will probably feel bad.
The tour is designed so that you can acclimatize and can walk on the third day without problems.
In case you feel bad, it is recommended that you rest and hydrate well.
---
Is it necessary to go with an agency?
Yes, our Machupicchu Terra agency has the authorization of the Ministry of Culture.
During the 5 days you will have all the details and the necessary equipment to make your vacation more pleasant.
At Machupicchu Terra, we also take care of private trips, you just have to request this service at: info@machupicchuterra.com.
---
Frequent questions
Does the tourist package include a flight reservation?
No, the reservation of plane tickets is not included in the tourist package. However, if you want this service, you can request it with the travel advisors at the time of booking. This service will be possible if availability is enabled.
Does the tour package include reception at the airport and transportation to the hotel?
You will have the permanent assistance of our travel advisors. They will be in charge of coordinating your arrival time and sending one of our agents in charge of transportation. This agent will be in charge of taking you to your hotel where you can leave your belongings to start the first activity.
What hotels can I find in Cusco and Aguas Calientes?
You will be able to find different hosting services that best suit your interests. The hotel services that you will find in our catalog are 2-star or 4-star in terms of quality of service.
How far in advance can I reserve?
It will be recommended that you book 2 or 3 months in advance so that you can guarantee the date that best suits you. Our agents will guarantee your hotel reservation and entrance to Machu Picchu, so you will not have to waste time.
Do I want to have this trip with my family in private?
Yes, having a trip alone with your family is the best way to vacation. You only have to contact our advisors by WhatsApp or by our email: info@machupicchuterra.com
What places will we visit in this tour package?
We will visit Sacsayhuamán, Coricancha, the Cathedral of Cusco, Tambomachay, Qenqo, Pucapucara, Pisac, Ollantaytambo, Chinchero, Chachabamba and Wiñayhuayna and Machu Picchu.
Is the Short Inca Trail difficult?
No, on the contrary, it is a simple and ideal way to discover the valleys and roads that were used by the inhabitants of Tawantinsuyo in the past. The day after the walk you will be able to access transport services that will allow you to rest.
---
Tours relacionados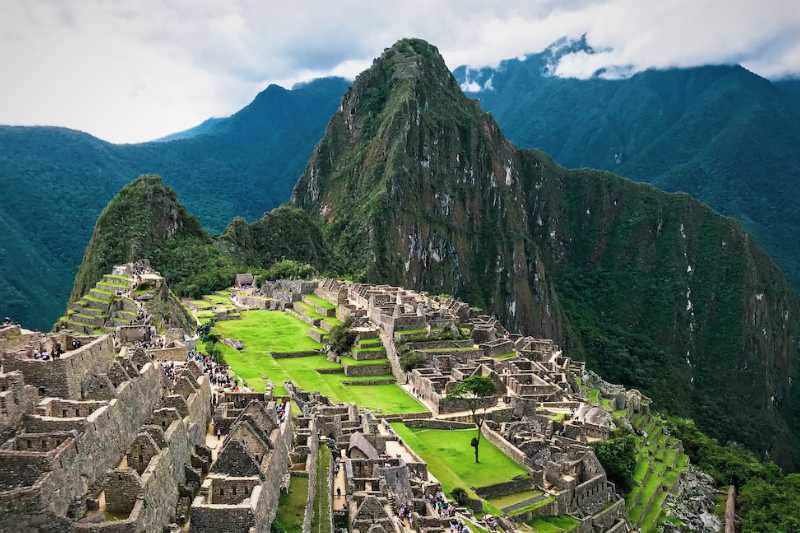 Cusco / Excursiones of several days
Cusco Treasures: City Tour Cusco + Inti Raymi and Machu Picchu (4 days tour)
Cusco Treasures: City Tour Cusco + Inti Raymi and Machu Picchu (4 days tour)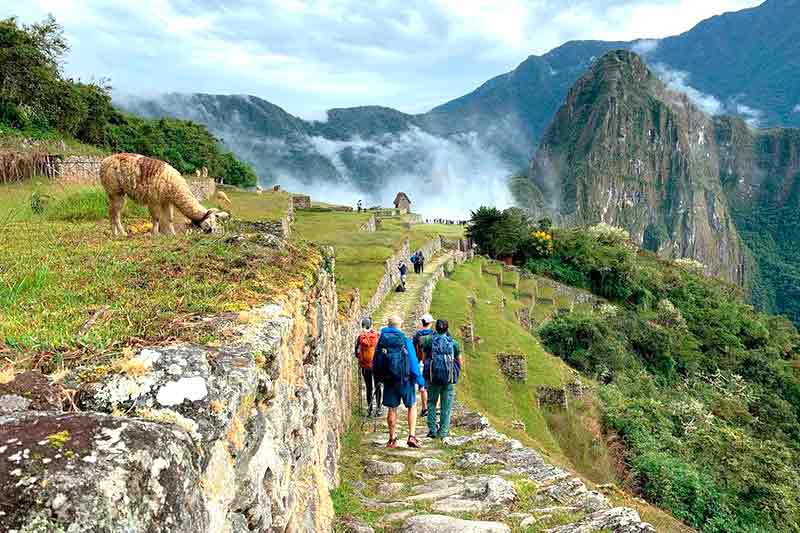 Cusco / Excursiones of several days
9 Days Tour: Cusco and Inca Trail (4D) + Sacred Valley
9 Days Tour: Cusco and Inca Trail (4D) + Sacred Valley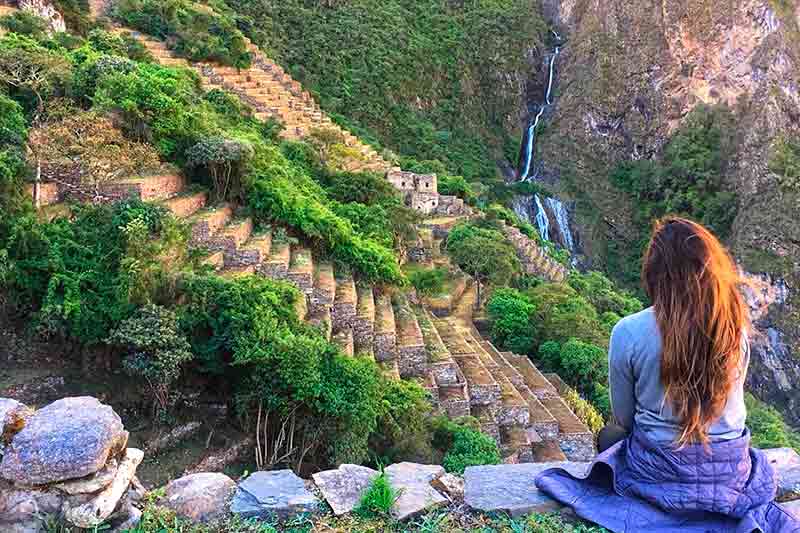 Cusco / Excursiones of several days
Choquequirao – Machu Picchu: 7 days all inclusive
Choquequirao – Machu Picchu: 7 days all inclusive