Treasures of Cusco: Inti Raymi and Machu Picchu (Tour 2 days)
Day trips
From
USD

450
Peruvian price USD 340
---
About this tour
Start:

From the door of your hotel on the second day

Group:

16 people maximum.

Transport type:

Minivan Sprinter, fully equipped and comfortable.

Tickets included:

No more lines, tickets included

Tour guide:

In English and Spanish (shared service)

Payment methods:

Visa, MasterCard, American Express, Diners Club, PayPal.
---
Description
Special and cultural tourist package. Here you will be able to discover two treasures of Cusco. The first of them is the one that recovered after a long time. This event or ceremony is the Inti Raymi. The Inti Raymi is an ancient ceremony where a party is held with songs and dances for the sun god. Many people from all over Peru and Cusco converge on this magnanimous event. All of them, being in Cusco, you can travel to the Wonder of the world. This tourist package will allow you to have a ticket for the seats on the Sacsayhuamán esplanade and also tickets to enter and see Machu Picchu. Forget long lines.
---
Video
---
This is the experience
Cusco is one of the most popular destinations in the world. One of the most important dates is June 24. During this day a very important and showy event takes place. A ceremony is staged with more than 800 artists, all of them dressed and accompanied by live music and songs that are a symbol of everything that Tawantinsuyo once represented. This staging lasts approximately 6 hours and is done in 3 acts. The first takes place on the esplanade of the Coricancha temple, the second takes place in the Main Square, also known as Huacaypata. Finally, the Inti Raymi ends in Sacsayhuamán where the most colorful show takes place.
The second day we will leave very early in the direction of the wonder of the world. We will leave in the direction of the Sacred Valley of the Incas until we reach Ollantaytambo. From this place we will board a train to Aguas Calientes. In this place it is time to ascend in an ecological bus to Machu Picchu. Before returning to Aguas Calientes it is possible to access a buffet lunch at a special and extra price. You also return to Cusco in a bimodal service, first by train and then by bus or minivan.
---
Prices
Tour Inti Raymi (Sacsayhuaman) + Machu Picchu
Tour Inti Raymi + Machu Picchu

Foreign

CAN

Peruvian

Adult

Student

Child

Adult

Student

Child

Adult

Student

Child

Green Zone
450 USD
430 USD
410 USD
420 USD
400 USD
390 USD
340 USD
320 USD
310 USD
Orange Zone (recommended)
530 USD
510 USD
490 USD
500 USD
480 USD
470 USD
500 USD
480 USD
470 USD
Red Zone
530 USD
510 USD
490 USD
500 USD
480 USD
470 USD
500 USD
480 USD
470 USD
*You can upgrade the train service to Vistadome on the tour to Machu Picchu for an extra cost of 75 USD.
Tour Inti Raymi (Coricancha and Sacsayhuaman) + Machu Picchu
Tour Inti Raymi + Machu Picchu

Foreign

CAN

Peruvian

Adult

Student

Child

Adult

Student

Child

Adult

Student

Child

Green Zone
495 USD
465 USD
460 USD
465 USD
445 USD
440 USD
365 USD
345 USD
340 USD
Orange Zone (recommended)
570 USD
550 USD
530 USD
540 USD
520 USD
515 USD
540 USD
520 USD
515 USD
Red Zone
570 USD
550 USD
530 USD
540 USD
520 USD
515 USD
540 USD
520 USD
515 USD
*You can upgrade the train service to Vistadome on the tour to Machu Picchu for an extra cost of 75 USD.
---
Itinerary
Day 1: Inti Raymi
The first and second acts are optional. The meeting to get to Sacsayhuamán is in Regocijo Square at 9:30 am.
In case you decide to see all three acts, the first meeting takes place in front of the Coricancha esplanade, in the Valeriana cafeteria at 7:45 am.
In the Coricancha you can see the first worship of the Sun god. This place is staged by the Inca Pachacútec.
Next, we go to the Main Square where the Inca meets the coya, his royal partner.
In the Main Square, a mock sacrificial ritual is performed. After this they head towards Sacsayhuamán.
In Sacsayhuamán, you can observe all the festivities in which artists pretend to come from the 4 suyos.
We will arrive at this place with the minivan and find our reserved seats. Before lunch time we will receive the box lunches.
The return is a short trip. We will be in a central place at 2:00 p.m.
Day 2: Departure to Machu Picchu
The second day we started early from 05:10 to 05:40 in the morning.
The approximate time in which you must wait with your belongings ready will be coordinated.
We will leave in the direction of the Ollantaytambo train station. Travel time is two hours.
In Ollantaytambo we will board the train that will take us to Aguas Calientes, from where we will be very close to Machu Picchu.
One of our agents will wait for you and accompany you to the bus station
These buses are the only means of transportation to reach the Wonder of the World without physical effort.
We won't have to wait long, the trip is only 30 minutes and the buses leave every 10 to 15 minutes maximum.
Once inside Machu Picchu we will be able to appreciate the whole place from a panoramic view. We will know the main temples and special constructions that harmonize with the geography of the area.
We will leave at lunchtime, where you will be able to access the special discount for the buffet lunch at the Tinkuy restaurant.
Going back to Aguas Calientes is done by bus.
You can walk around this district until the time the train arrives, the average time is from 4:00 p.m. to 5:00 p.m.
Remember that you can also access the Vistadome train service that has panoramic cars and more space and comfort.
The return will be by train to Ollantaytambo and bus or minivan to Cusco, it is estimated to arrive at 9:00 p.m.
---
Includes
Hotel reservation (optional or customer request).
To travel to Machu Picchu transportation from the door of your hotel.
Ticket for a seat in the area of ​​your choice to see Inti Raymi.
Access ticket to Machu Picchu.
Transportation fully equipped, comfortable, clean to Sacsayhuamán and Ollantaytambo.
Round trip transportation from Aguas Calientes to Machu Picchu.
Box lunch day one for lunchtime.
Discount option for buffet lunch in Tinkuy (second day).
Expert guide in staging and Machu Picchu.
Snacks, drinks, fruits.
Transport to other unspecified destinations.
Hats or caps.
Printed photographs.
Tips.
Poles.
---
What to bring?
It is recommended to wear sunscreen, sunglasses, and a hat or beanie to view the Inti Raymi ceremony.
On both days, have your identity document.
On both days, comfortable shoes and light clothing.
Have a raincoat in case it rains.
During the visit to Machu Picchu you will need a mosquito repellent.
Do not forget your sunscreen to visit Machu Picchu.
Camera.
Bring some snacks, nuts, fruit and drinks.
Cash money to buy souvenirs or other purchases.
---
Where does the tour start and end?
During the first day we will start according to the choice you make, which can start in Regocijo Square or in Café Valeriana.
During the second day, we will stop by your hotel and drop you off at a location to be coordinated. It can be the door of your hotel or a central area.
---
Will I get altitude sickness?
Altitude sickness can happen to anyone, one way to avoid it is not to exert yourself physically and consume plenty of water. The intensity is also independent in each body.
This discomfort occurs when unaccustomed bodies pass more than 3,000 meters above sea level. The most common symptoms are headache, malaise, and in some cases an upset stomach.
This tour package does not require great physical efforts. You will only have to avoid getting agitated and consuming a lot of water since your arrival in Cusco.
---
Is it necessary to go with an agency?
Getting an entrance ticket to Machu Picchu and seeing the Inti Raymi is complicated. A tourism agency will help you get and organize the travel itinerary without worrying about extra food and transportation.
If you want a private tour or more information, do not hesitate to ask our travel advisors at: info@machupicchuterra.com.
---
Frequent questions
Does this service include pick up from the airport?
No, air tickets and airport reception are not enabled in this tour package. However, you can check availability with our travel advisors at the time of reception.
Is the tour package ideal for everyone?
Yes, the activities are easy to do and do not require much physical effort. In addition, it is possible to reach all destinations by motorized vehicle.
Does this tour package include a hotel?
No, you can check availability with our travel advisors. We have hotels from 2 stars to 5 stars.
Is it recommended for minors?
Only if they are over 10 years old and enjoy doing this type of tour. It is recommended that children travel with their parents or guardians.
Is it possible to cancel the tour?
No, as it is a special date, it is not possible to make cancellations. For this reason, it is recommended that you make the reservation in advance to avoid problems that prevent you from making the trip.
Do I have the option to change the date?
No, the special Inti Raymi event only takes place every June 24. In this sense it is not possible to make date changes. Advance reservations are recommended.
---
Tours relacionados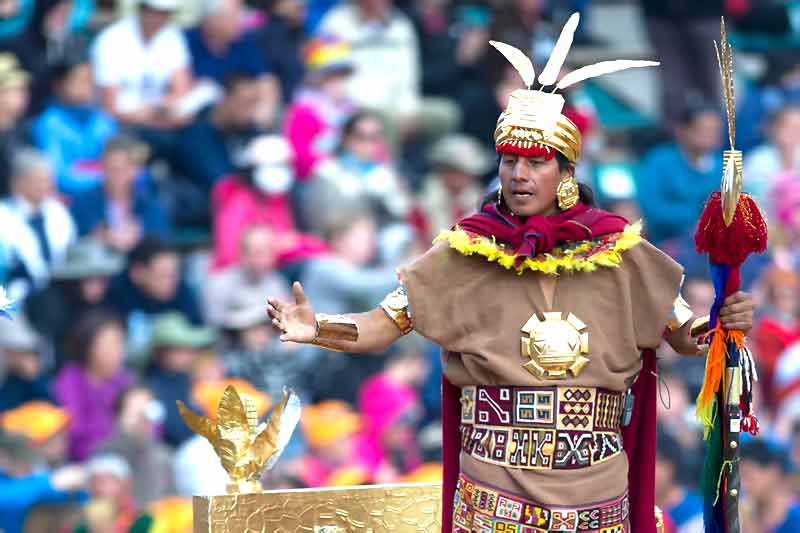 White Christ of Cusco / Day trips
Tour Inti Raymi, the festival of the sun in Cusco
Tour Inti Raymi, the festival of the sun in Cusco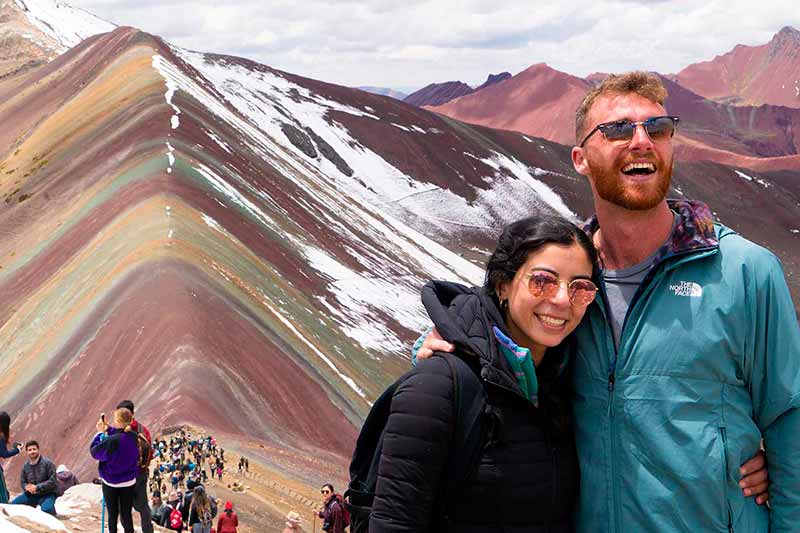 Cusco / Day trips
Mountain Tour 7 Colors Full Day with All Inclusive
Mountain Tour 7 Colors Full Day with All Inclusive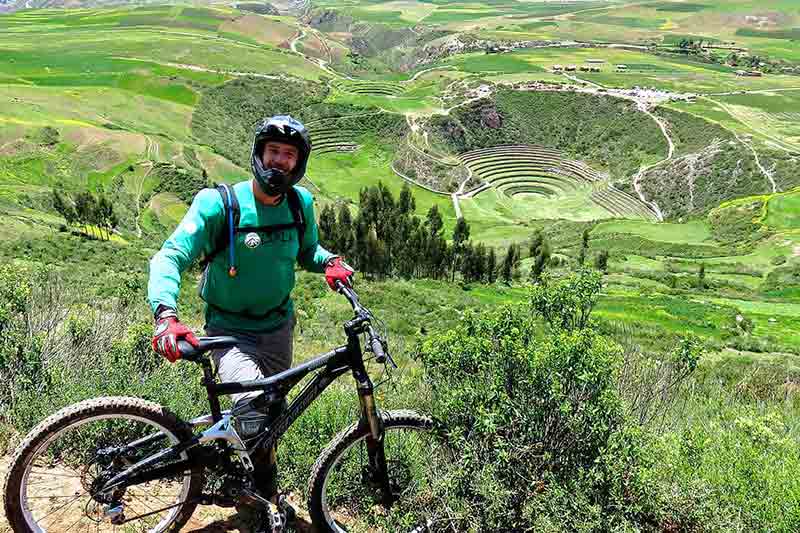 Cusco / Day trips
Bike tour around Maras and Moray
Bike tour around Maras and Moray