Cusco in 5 days: Discover Machu Picchu and Rainbow Mountain
Excursiones of several days
From
USD

630
Peruvian price USD 565
---
About this tour
Start:

Since your arrival in Cusco at the airport.

Lodging:

3 nights Cusco and 1 night in Aguas Calientes

Group:

16 people maximum.

Transport type:

Minivan Sprinter, fully equipped and comfortable.

Tickets included:

No more queues, tickets included.

Tour guide:

In English and Spanish (shared service)

Payment methods:

Visa, American Express, Diners Club, PayPal, MasterCard.
---
Description
Cusco Immortal, is one of the best tours that can exist to get to know Cusco . We organize this tourist package for those who want to know the most beautiful landscapes that Cusco has. That is why you can find the always beautiful Vinincunca, this destination is quite popular and brings together a large number of people who travel only to take a few photos with this natural wonder. For obvious reasons we cannot ignore the monumental construction of Machu Picchu, which helps us to understand the urban system that was managed during the Tawantinsuyo. In this way we will know important archaeological sites and during this course we will see really beautiful landscapes.
---
Video
---
This is the experience
From the first day of your visit to Cusco, we will pick you up at the airport and you can leave your belongings at the hotel. That same afternoon we will start with the tour to visit the closest tourist places in the city. The next day we will have a special shipment. During the morning we will visit the main buildings of the Sacred Valley of the Incas, that same afternoon after our delicious buffet lunch at the Tunupa restaurant, we will wait for our Voyager train in Ollantaytambo and travel to Aguas Calientes. Place where we will spend the night. In this way we will have the whole day and from very early to go through the stands and streets of Machu Picchu. We will spend the night in Cusco again. It is recommended to rest well that night because the next day we will have a real challenge. Visit the Mountain of 7 colors or Vinincunca. We will have to walk or rent a horse for our transportation. That day we will enjoy a buffet breakfast and lunch in Cusipata. Finally, on the last day we will pick you up and accompany you to the airport where our services will end.
---
Prices
SINGLE ROOM

Foreign

CAN (Bolivia, Colombia, Ecuador)

Peruvians

Adult

Child

Adult

Child

Adult

Child

2 star hotel
630 USD
600 USD
600 USD
580 USD
565 USD
550 USD
3 star hotel
820 USD
790 USD
790 USD
770 USD
755 USD
740 USD
4 star hotel
1,090 USD
1,060 USD
1,060 USD
1,040 USD
1,025 USD
1,010 USD
*Upgrade the train to "Vistadome" for an additional cost of 50 USD.
DOUBLE ROOM

Foreign

CAN (Bolivia, Colombia, Ecuador)

Peruvians

Adult

Child

Adult

Child

Adult

Child

2 star hotel
555 USD
525 USD
525 USD
505 USD
490 USD
475 USD
3 star hotel
615 USD
585 USD
585 USD
565 USD
550 USD
535 USD
4 star hotel
775 USD
745 USD
745 USD
725 USD
710 USD
695 USD
*Upgrade the train to "Vistadome" for an additional cost of 50 USD.
---
Itinerary
Day 1: Reception at the airport and City Tour Cusco
When you arrive in Cusco we will wait for you duly identified.
When the meeting is finalized, our agent will take care of transporting you to your hotel.
During the trip you will be informed that you have to wait ready, since the City Tour Cusco starts at 13:00.
During this tour we will visit: Coricancha, Sacsayhuamán, the Cathedral of Cusco, Tambomachay, Qenqo and Pucapucara.
The package includes round trip transportation.
This first tour will end at 7:00 p.m. in a central square or at the door of your hotel.
Day 2: Sacred Valley and pass to Aguas Calientes
The pick up from the hotels will be from 7:30 to 8:00 in the morning. This with the intention of leaving early and after breakfast.
We will leave en route to the Sacred Valley and our first stop will be at the Taray viewpoint. We will have spectacular and panoramic views of the entire valley that we will visit.
The next destination will be Pisac, which is a bit complicated but we can easily get there to see the remains of this incredible Inca citadel.
By lunchtime we will arrive in Urubamba, where we will have a buffet lunch at the Tunupa restaurant.
We will have a well-deserved rest and continue with our journey. Our stop will be in Ollantaytambo, where we will have a tour of this place that was once a fortress.
After this tour we can have a short break at the train station.
Ours will be the Voyager, which will leave at 16:36 heading to Aguas Calientes.
Upon arrival we will be greeted by one of our agents who will accompany us to our hotel.
Aguas Calientes is a small district, but with big surprises. You will not lack for anything.
Day 3: Ascent to Machu Picchu
We will leave early, after an exquisite breakfast at the hotel (according to availability at the hotel of your choice).
We will meet at 8:00 am at the access gate to Machu Picchu with our guide.
We will enter the Inca citadel and we will do Circuit 2. It will be possible to visit all the enclosures, including the Intihuatana, which has restricted hours. We will see the main temples, houses, platforms and the House of the Inca.
After 3 hours of travel, we will have already taken the photos of the place and learned part of the history of Peru.
Buffet lunch is optional. The restaurant is Tinkuy, one of the most exclusive.
We will return to Aguas Calientes in the same ecological buses. In Aguas Calientes we will have free time.
It will be possible to find the lunch that we want and we will also have free time until the departure time of our train.
The departure of the train is at 16:22 (depending on availability). It is recommended to be at the place 30 minutes before.
If you wish, you can access the Vistadome train service. This train offers larger wagons and a live show.
Upon arriving in Ollantaytambo we will board a bus or minivan to return to Cusco.
Arrival in Cusco at approximately 9:00 p.m. The service will end at 9:00 p.m.
Day 4: Exit to the Mountain 7 colors
We will drop by your hotel from 4:30 to 5:00 in the morning. We will have to get up early because we will have a fairly long trip.
Our direction will be the opposite of the one we followed in previous days. This time we will head south.
We will have a 2-hour drive and we will arrive at the place where we will have breakfast, very close to Cusipata.
We will return to our tourist transport and we will have a trip of approximately 1 hour. This route will be special because we will see a beautiful landscape and we will enter the Andes Mountains.
We will all get off at Phulawasipata, from where we will start walking or renting a horse.
After about two hours of walking, with the necessary breaks, we will reach Vinincunca.
We will have enough time to rest and take the pictures we want.
We will return by the same path to Phulawasipata.
We will travel to Cusipata and have lunch at the place where we had breakfast.
It is expected to arrive in Cusco between 5:00 p.m. and 6:00 p.m.
Day 5: Farewell
We will transfer you and your belongings to the airport and end our services.
---
Includes
Tourist transportation to take you to the airport.
You can book your hotel, we have services from 2 to 4 stars.
Round trip tourist transportation for all the destinations and activities that we will see.
Reserved entry to all destinations listed in the itinerary.
Pick up from the door of your hotel during the 5 days.
Physical and virtual ticket to access Machu Picchu Only.
Transportation fully equipped, comfortable and ideal for tourism.
Bimodal transportation to get to Machu Picchu.
Buffet lunch at Tunupa restaurant (day 2).
Discount option for buffet lunch in Tinkuy (day 3).
Expert guides in the staging of all the activities that we will see
First aid kit.
Oxygen balloon.
Transport to other unspecified destinations.
Drinks, snacks.
Hats or caps.
Transfer by horse.
Printed photographs.
Tips.
---
What to bring?
Always carry your identity document or passport, it will help you to validate your entrance tickets.
Have sunscreen handy.
Wear sunglasses and a cap or hat. On the trip to Machu Picchu it will be necessary to wear light clothing and repellent against mosquitoes.
On the trip to Vinincunca, you should wear a jacket and wrap up in layers.
Always have a raincoat with you.
---
Where does the tour start and end?
We will wait for your arrival in Cusco to take you to your hotel. Our service will end at the end of the fifth day, when we drop you off at the airport after picking you up from your hotel.
Keep in mind that, during the 5 days of the tour, we will pick you up from your hotel.
---
Will I get altitude sickness?
It is likely that you will feel some discomfort on the fourth day when we visit Vinincunca . This mountain of colors is more than 5,200 meters above sea level.
The first feelings of discomfort are headache, general malaise, listlessness. If it is more advanced, the discomfort translates into dizziness and nausea.
You will be able to rent a horse to go up and down for a smooth ride.
---
Is it necessary to go with an agency?
Yes, at Machupicchu Terra, we will take care of all the details. You will not have to queue or pay at the last minute.
If you want a private tour just for you or your family, you can communicate your interest to: info@machupicchuterra.com.
---
Frequent questions
Does this service include pick up from the airport?
Yes, this will be coordinated in advance via email or WhatsApp. A worker of ours will take care of this. He will wait for you and will be in charge of transporting you to the hotel you have reserved.
Is altitude sickness dangerous?
No, if you feel discomfort, it is recommended to rest and drink water. Altitude sickness is a normal reaction of the body when it is at high altitude where there is little oxygen. The first few tours you will take will help you acclimatize. On your ascent to Vinincunca, it probably won't cause you much discomfort.
Does this tour package include a hotel?
Yes, when you book the entire package you will be shown the hotel options we have. The service that we can find is from 2-star to 4-star hotels.
Can I purchase this service privately?
Yes, just contact our travel consultants. They will give you the benefits of hiring a private tour with our agency. You can use WhatsApp or email: info@machupiccchuterra.com
How much travel time is needed to get to Machu Picchu?
The travel time to reach Machu Picchu is as follows: 2 hours from Cusco to Ollantaytambo, by bus or minivan, from Ollantaytambo we will board a train to Aguas Calientes, the travel time is approximately 2 hours. Finally, from Aguas Calientes to Machu Picchu it is a 30-minute trip on the ecological buses.
Can I only get to Cusco by flight?
No, there is also the possibility of arriving by bus. However, the distances are usually long and you would waste many hours of your vacation traveling. It is recommended that you arrive by plane so that you have more time and can enjoy Cusco.
---
Tours relacionados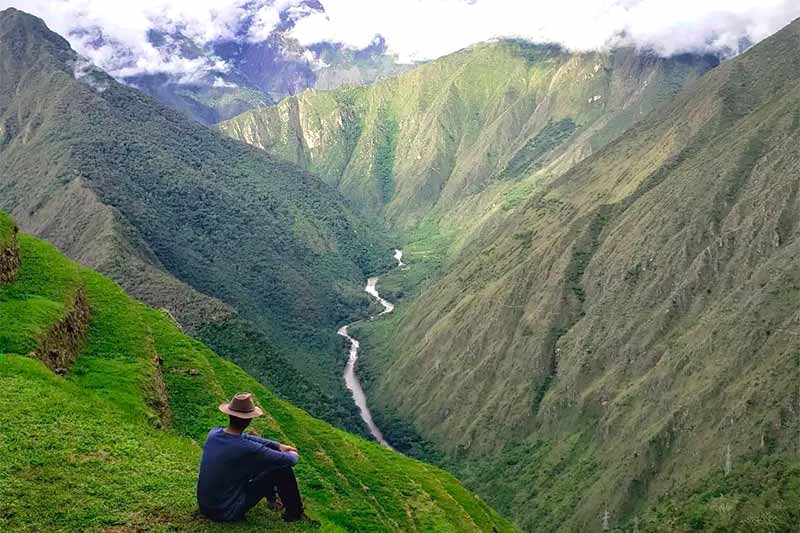 Cusco / Excursiones of several days
Inca Trail Tour 2 days for Peruvians
Inca Trail Tour 2 days for Peruvians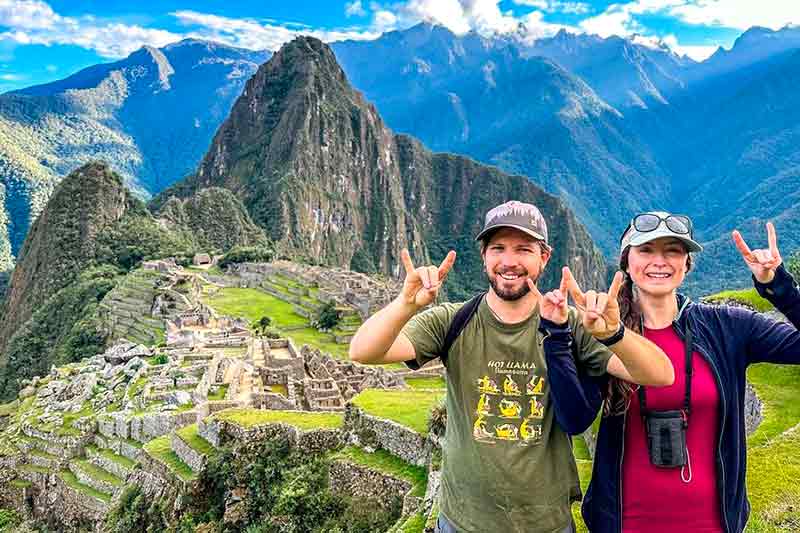 Cusco / Excursiones of several days
Tour 8 days: Inca Trail and Sacred Valley all inclusive
Tour 8 days: Inca Trail and Sacred Valley all inclusive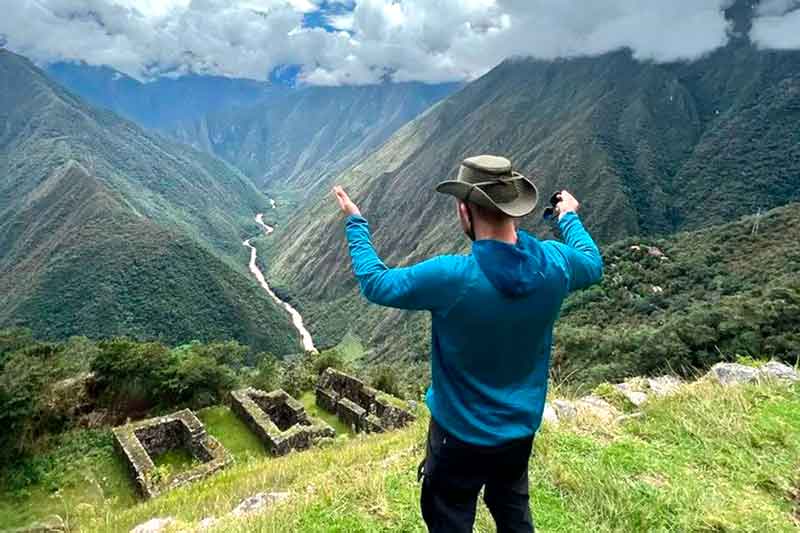 Machu Picchu / Excursiones of several days
Short Inca Trail Tour 2 days with All Inclusive
Short Inca Trail Tour 2 days with All Inclusive