The 10 most famous foods in Peru
Peru offers one of the best gastronomies in the world. In each region of the diverse country there are sublime foods for the palate. This thanks to an interesting local culinary culture influenced by Spanish, Chinese, Japanese, Italian and African migrations. Definitely the most representative dish is the world famous ceviche. However, there are more great tasting dishes waiting to be tried. Meet the 10 most famous!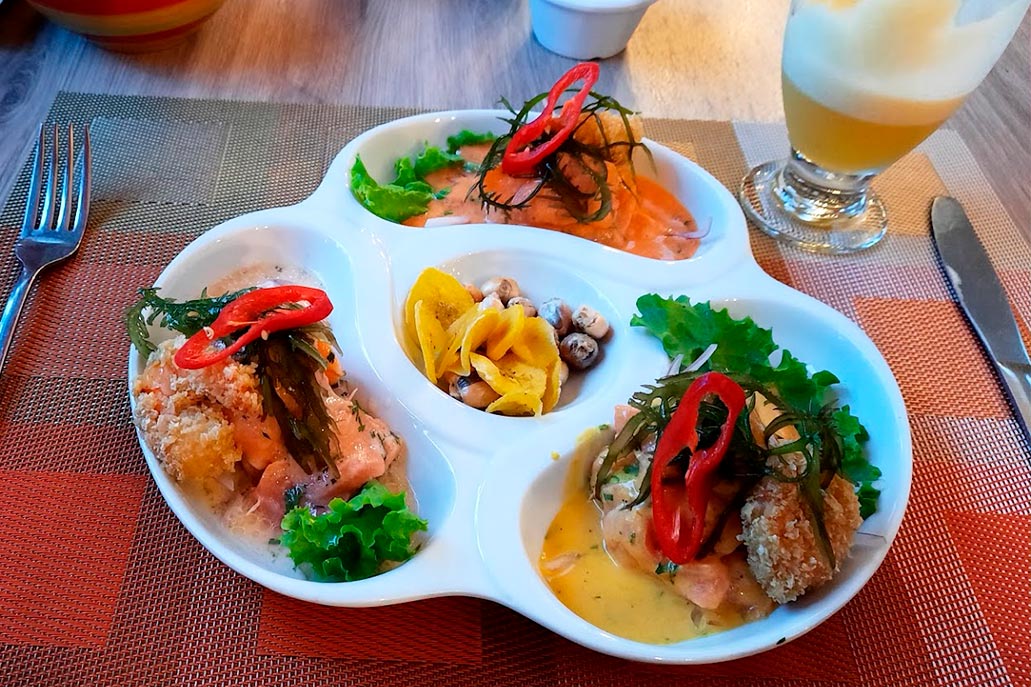 ---
---
Ceviche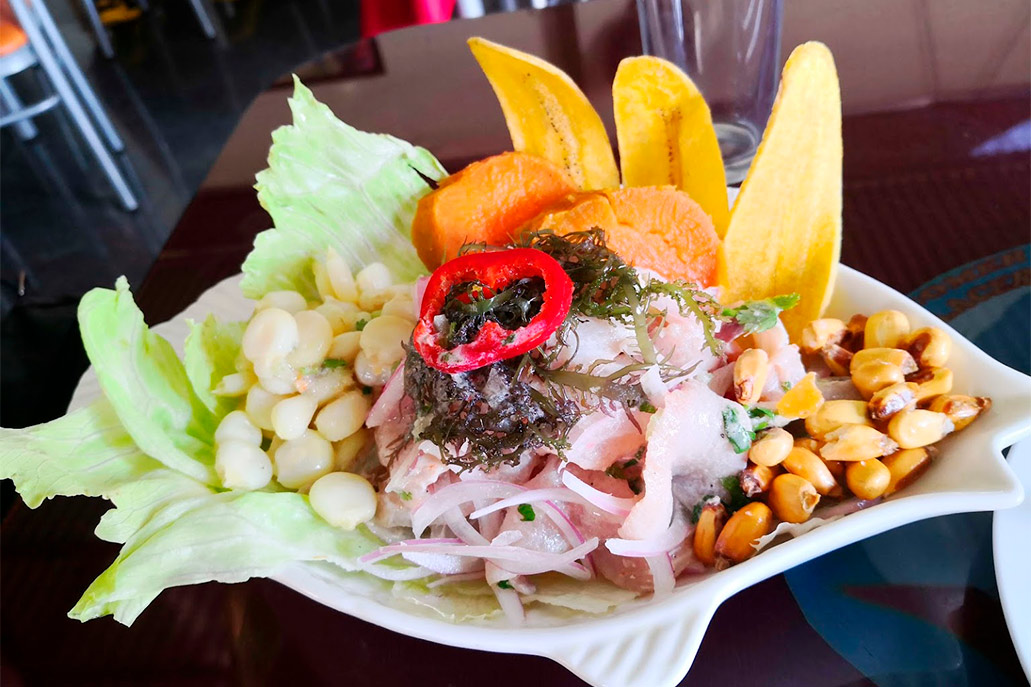 Ceviche is the most representative dish of Peru. It is made from fresh fish without frying or parboiling but marinated with Peruvian lemon juice. Research indicates that it was the Spaniards who used lemon to marinate fish, since the Incas used chicha de jora (an alcoholic beverage produced by maceration of corn).
There are different types of ceviches in America. In Peru, ceviche is prepared with fresh fish and acquires a different flavor thanks to the lemon from its coast. Preparation is simple. The fish is chopped mixing it with lemon juice. Finally cilantro, onion, corn and lettuce are added. The chili pepper gives it a dose of spice that gives it a special flavor.
Ingredients: fish, lemon, onion, salt, pepper, yellow pepper, sweet potato, corn, lettuce and coriander.
Recommended: as lunch or dinner. It is served cold.
---
Lomo saltado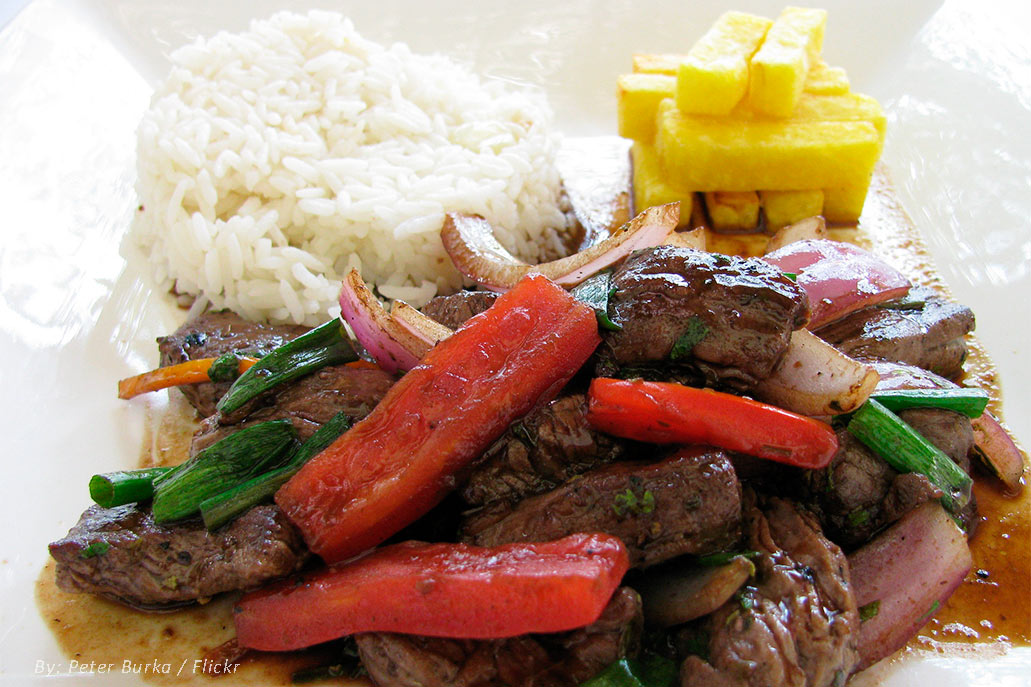 Lomo saltado is a dish that can be found in any region of Peru. It is made from minced meat (beef tenderloin) seasoned in the oriental way. Its history dates back to the end of the 19th century. So the Japanese immigrants adapted the Peruvian ingredients by seasoning them in a pan, as was their custom.
The dish can be prepared by combining or innovating ingredients. Due to its low cost and ease of preparation, it is consumed both by popular sectors and in exclusive restaurants in the country. To prepare it, simply season (with soy sauce, pepper, garlic and salt) the meat, tomato and onion in a pan. It is usually accompanied by white rice and French fries.
Ingredients: beef tenderloin in pieces, tomato, onion, yellow pepper, soy sauce, vinegar, salt, pepper, oil and garlic.
Recommended: at freshly cooked lunch.
---
Causa rellena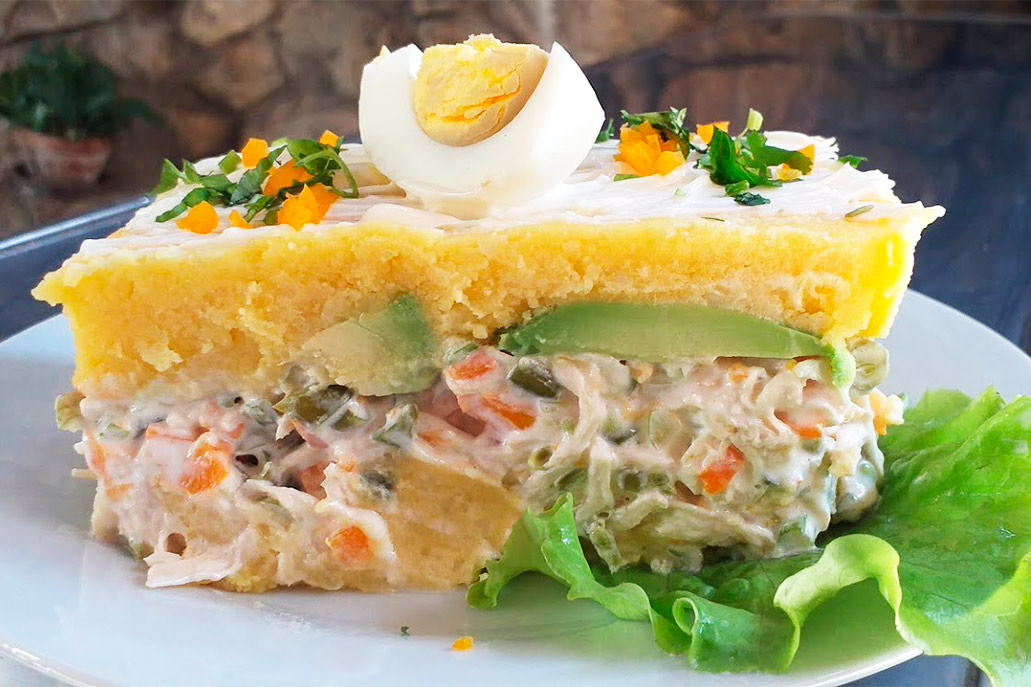 The causa rellena, also called causa Limeña, is a Peruvian dish widely consumed both in local and tourist restaurants. It is made with yellow potato stuffed with chicken (or tuna), peas, carrots, lemon and mayonnaise. Its history dates back to the early nineteenth century, when the wives of soldiers seeking the Independence of Peru devised this dish with the few ingredients available. When selling it, they used the slogan 'for the liberating cause'.
The preparation requires parboiling the potatoes until they form a dough, to which is added ground chili, oil, lemon juice and salt. When dividing it as a sandwich, chicken, mayonnaise, onion and salt are added. It is usually garnished with a boiled egg. The dish has ingredients from the coast and mountains of the country.
Ingredients: yellow potato, chicken breast in pieces, onion, mayonnaise, yellow pepper, avocado, boiled egg and olive.
Recommended: at lunch.
---
Arroz con pollo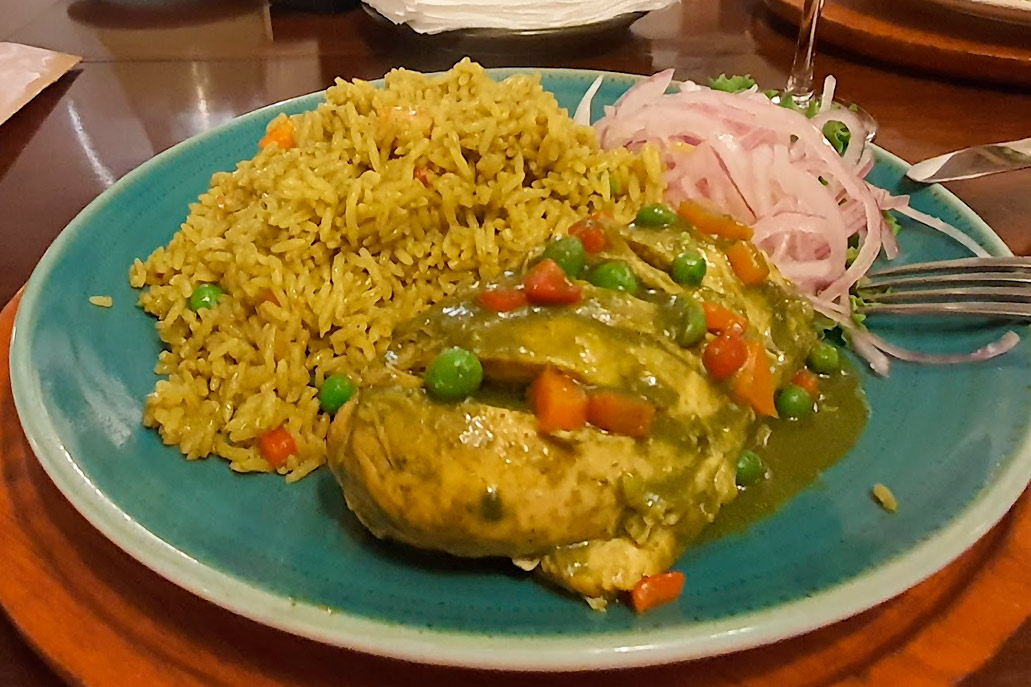 Arroz con pollo is one of the most consumed dishes in Peru, both in its various economic sectors and in its different geographical regions. As its name suggests, it is made from chicken and rice seasoned with coriander. Its history dates back to colonial times when local people adapted the Spanish-style 'yellow rice' to create 'arroz con pato' (a greener rice). Later, due to the shortage of duck, it was replaced with chicken.
In Peru, arroz con pollo is usually accompanied by the famous huancaína potato. In the popular sectors of the country, it can be mixed with other dishes such as chanfaina, red noodles and even ceviche. It is usually eaten at lunch. Peruvians usually accompany it with a beer and, on the coast, in front of the best Lima beaches and other parts of the country.
Ingredients: rice, chicken (legs, breast and thighs), spinach, tomato, green peas, onion, garlic, chili pepper, carrot, pepper, corn and oil.
Recommended: at lunch.
---
Papa a la huancaína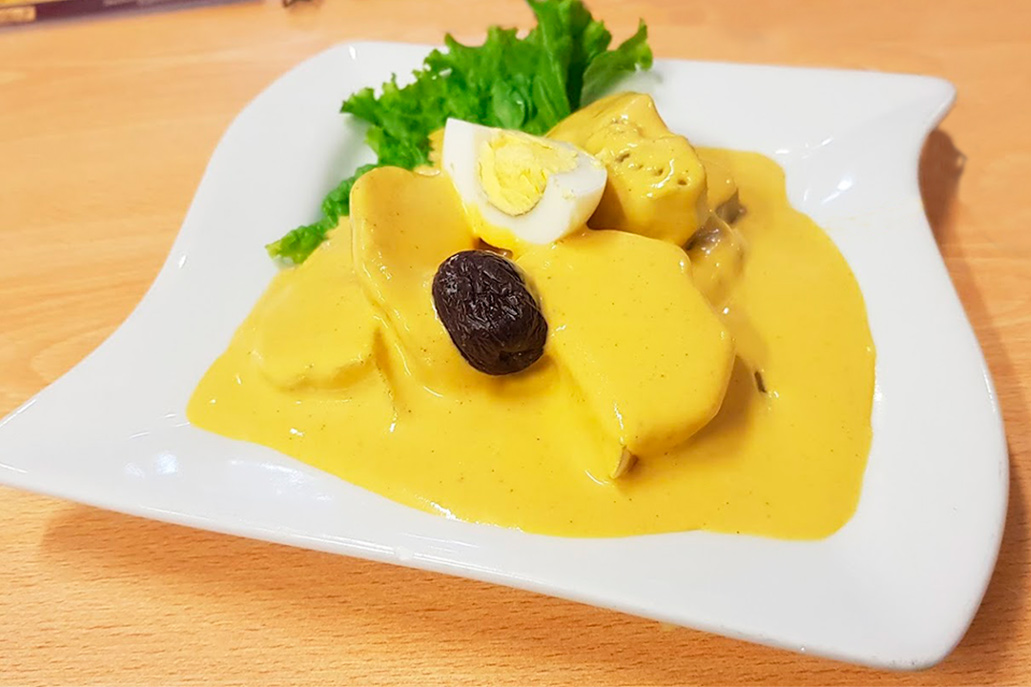 Papa a la huancaína is one of the most famous dishes – entrees in Peru. As its name suggests, it is made from potatoes and a cream made from cheese, yellow pepper, soda biscuit and milk. The story goes that in the nineteenth century yellow potatoes were served with this cream at the banquet to the captain of the ship Miguel Grau Seminario. The cook brought potatoes from the Huancayo region, so he named his dish as 'papa a la huancaína'.
The dish is usually accompanied by lettuce, black olives and slices of boiled eggs. Peruvians add the Papa a la huancaína to rice with chicken or red noodles. White potatoes should be parboiled to a suitable point. The cream is achieved by blending milk, biscuit, cheese, chili, onion, and garlic clove. The dish is served cold.
Ingredients: white potato, yellow pepper, fresh cheese, garlic, milk, oil, olive, lettuce, boiled egg and salt.
Recommended: as a starter.
---
Pollo a la Brasa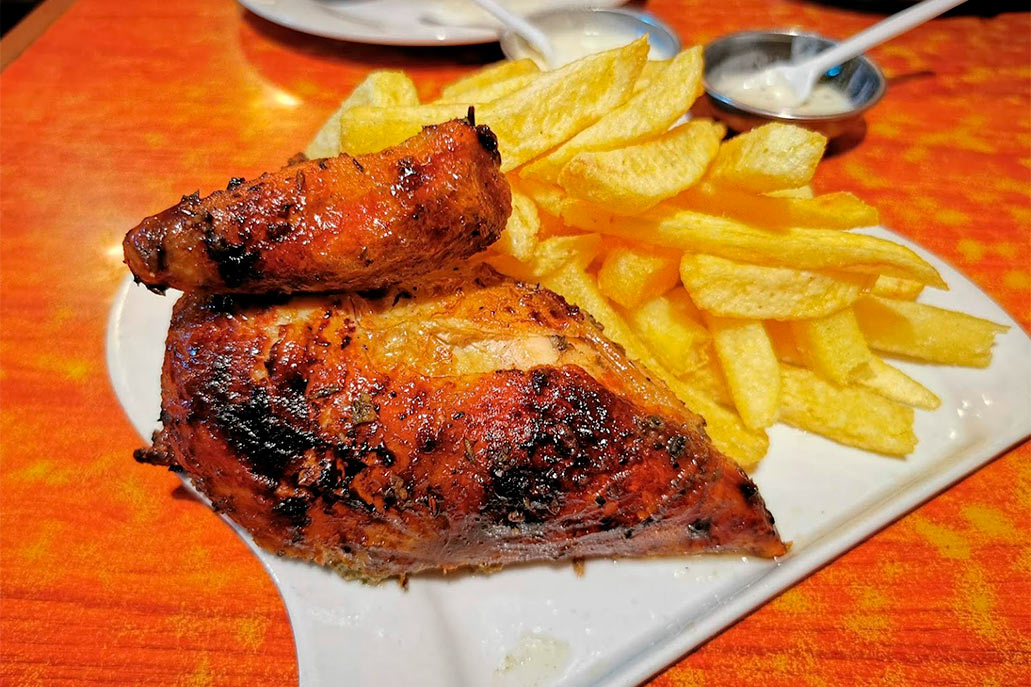 Pollo a la Brasa is the most consumed dish in Peru. It is prepared in the more than 13 thousand chicken shops throughout the country. Such is its reception that every June 21 is celebrated the 'Day of the pollo a la Brasa'. The reason for its great consumption is its delicious taste and the crispy French fries seasoned with the multi-colored creams. The pollo a la Brasa is usually accompanied by salads. It is consumed by different social classes and in all regions, even abroad.
The history of pollo a la brasa dates back to 1949 when Swiss immigrant Roger Schuller cooked his chickens in an oven pierced by an iron rod. Over time the oven was improved. The chicken was accompanied with French fries and salads. Little by little the consumption of this dish grew. Peruvians usually consume it at lunch or dinner.
Ingredients: chicken, soy sauce, vinegar, garlic, salt, pepper, cumin, French fries and creams (mayonnaise, mustard or ketchup).
Recommended: as lunch or dinner.
---
Rocoto relleno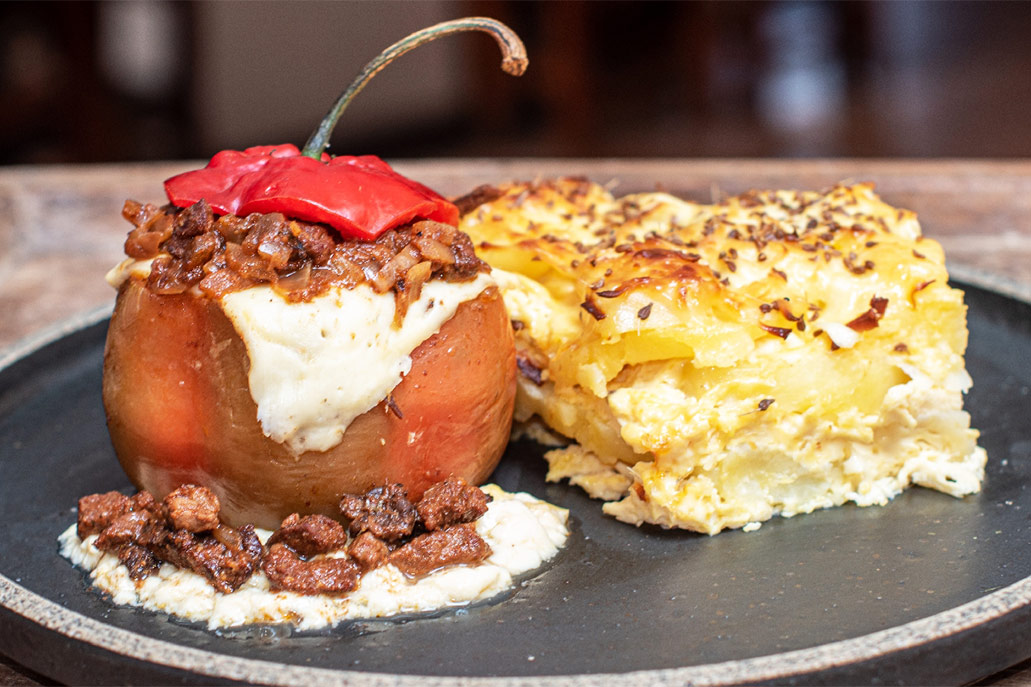 The Rocoto relleno is the most representative dish of the Arequipa region, in southern Peru. As its name indicates, it is made of hot peppers and meat. About its origins, people from Arequipa know a legend that attributes to chef Manuel Masías (1728 to 1805) a descent into hell to create a dish that Lucifer loved. It is that the spicy of the rocoto is tasted only by connoisseurs.
For its preparation, the inside of a hot pepper must be emptied. The filling is made with garlic, minced meat, onion, road, sugar, salt, pepper, and roasted peanuts. After garnishing it with cheese, it is baked. Arequipeños usually accompany it with potato cake. The stuffed hot pepper is consumed throughout Peru, although mainly in Arequipa and the south of the country.
Ingredients: hot pepper, sugar, lemon, oil, onion, chili pepper, minced beef, pepper, oregano, cheese, eggs, milk and salt.
Recommended: as lunch and served with refreshing drinks.
---
Anticucho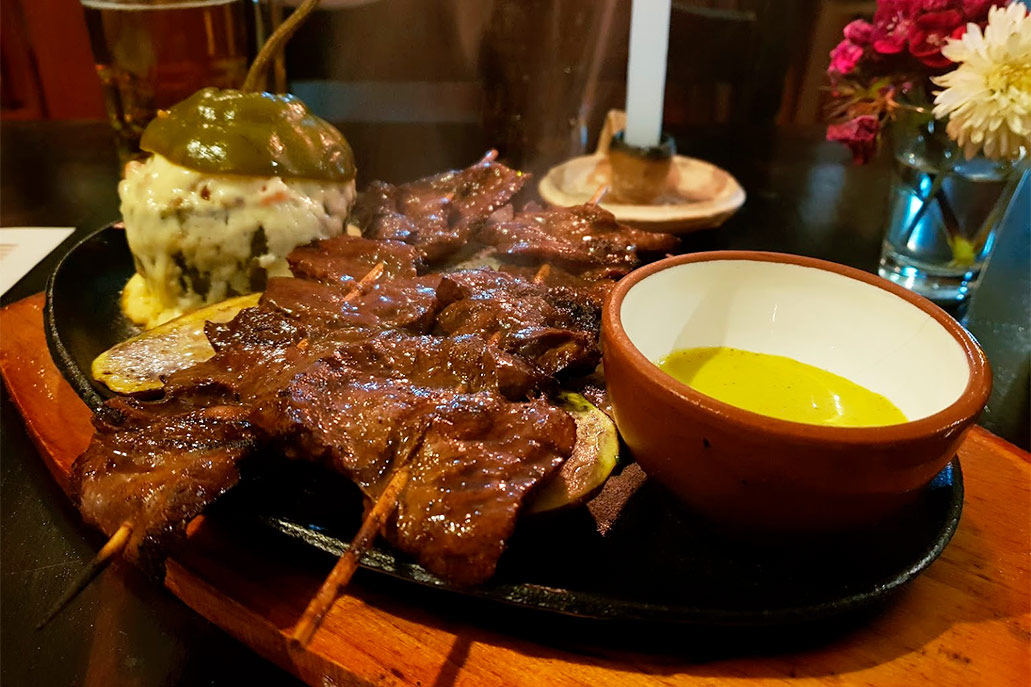 Anticucho is one of the most representative dishes of Peruvian gastronomy. It is consumed mainly as 'street food'. It is made from a heart of beef (or calf) seasoned in charcoal and crossed by a toothpick. Peruvians usually accompany it with potatoes. Every third Sunday in October, Peru celebrates the 'Day of the anticucho'.
The origin of the anticucho dates back to colonial times. The slaves used to feed on the giblets and the remains of reces that the authorities consumed. This is how they used the heart of the beef. The dish gradually evolved until it acquired its current aroma and shape. In every traditional restaurant and wheelbarrow in the historic center there is the sale of this aromatic dish.
Ingredients: beef heart in large pieces, vinegar, ají panca, pepper, cumin, salt, oregano, potato and cane sticks.
Recommended: as dinner or starter at lunch.
---
Cuy al horno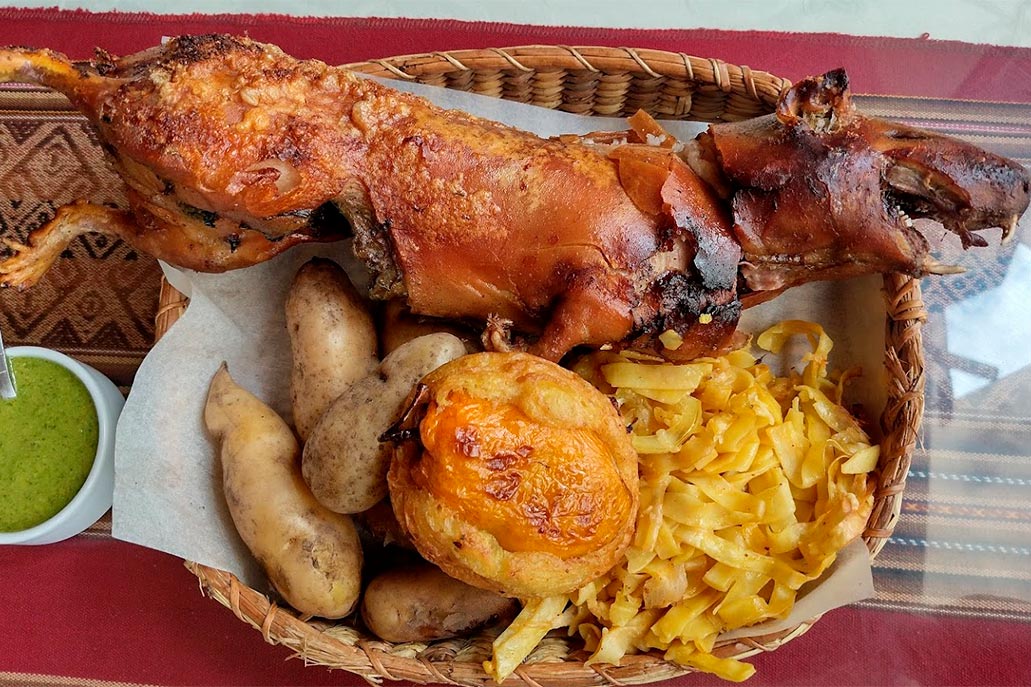 In the highlands of Peru it is customary to eat the crispy baked guinea pig, the guinea pig from the Andes Mountains. This rodent was domesticated more than 3,000 years ago. It was consumed by different cultures including the Incas. It is estimated that 17 thousand tons of meat are produced per year in Peruvian territory. The guinea pig can be eaten fried or parboiled. However, many prefer it cooked in an artisan oven.
In addition to its succulent flavor, guinea pig is a source of protein such as iron. It also has a low portion of fat. To prepare it in the oven, it is usually seasoned with huacatay, garlic, cumin, oil and salt. It is usually accompanied by baked potato and noodle. There are no parties in the mountains of Peru where this dish is not enjoyed.
Ingredients: guinea pig, garlic, salt, oil, pepper, cumin, lemon, huacatay and potato.
Recommended: as lunch or dinner.
---
Juane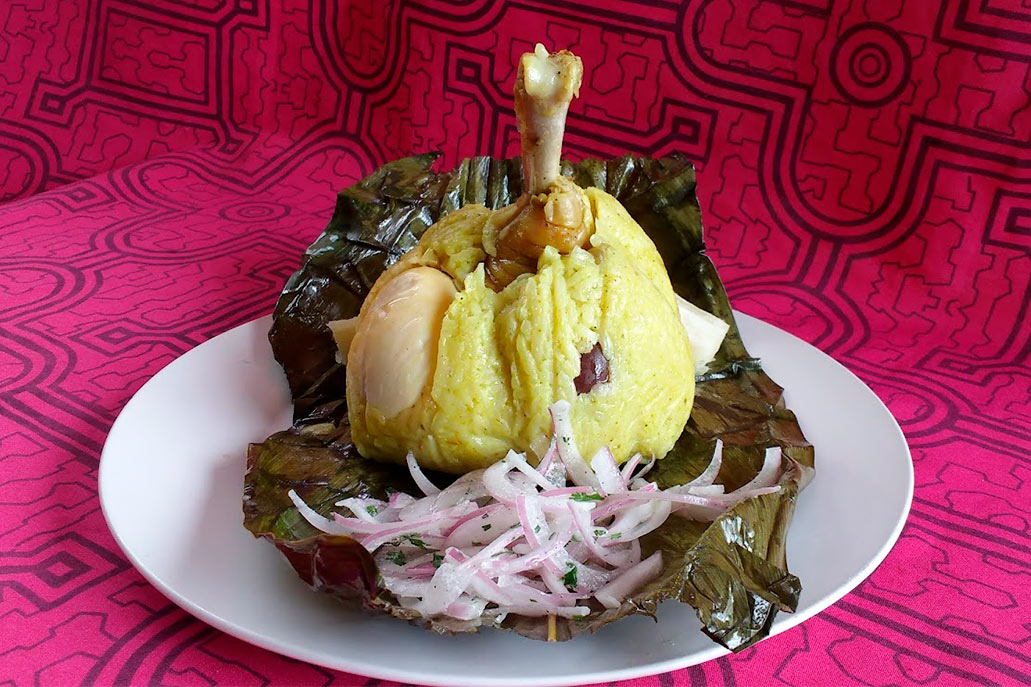 The juane is the symbol of jungle cuisine in Peru. It is made from chicken and rice stewed with spices and ingredients from the Amazon region. The feast of San Juan (every June 23) is the date on which it is traditionally consumed. However, juane can be enjoyed in every region of the country and at every time of the year.
Its origin is very old and is related to the pre-Hispanic technique of the Amazonian cultures in which the food wrapped in the bijao leaf is cooked. This custom is called 'Huanar', a word that later evolved to 'Juane'. Another version indicates that the name derives from 'San Juan Bautista'. Today it is consumed in the main markets of Peru. Of course, especially in the jungle of the country.
Ingredients: hen for prey (or chicken), boiled egg, olive, rice, ground garlic, oregano, bay leaves, onion, lard, salt, pepper, cumin, saffron and bijao leaves. li>
Recommended: at lunch accompanied by 'ají de cocona'.
By Machupicchu Terra – Last updated, August 28, 2023